Carl Brutananadilewski from the animated television show Aqua Teen Hunger Force gets the fsjal treatment in this photoshop meme from 4chan's /a/ (anime and manga) board.

The Tumblr blog CreepyWhiteGuys collects the racist, fetishizing messages Asian women receive from white men on online dating sites and apps. And they are super creepy.

Feeling a little under the weather? Better go get your underloaf checked out immediately!

Nintendo's promotional video for the upcoming North American release of the handheld life simulation game Tomodachi Life has spawned a fandom surrounding a group of digital avatars dancing around a 1995 Virtual Boy video game console.

Take a tour of the new Harry Potter fan site that lets you sign up for magic classes, hang out in your Hogwarts House dorm and fulfill your childhood dream of going to a wizard school.

Buying a vowel would only add to your problems with these photoshopped, often NSFW Wheel of Fortune puzzle board parodies.

This quote by Machinima host Adam Kovic about the first-person shooter Far Cry 3 has been widely mocked by the online gaming community for being a poorly-worded description of the game.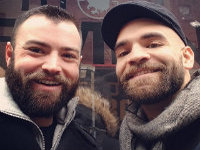 The Tumblr blog features pictures of gay couples who look eerily similar to each other.