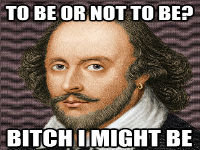 Two weeks after this phrase went viral in a photoshopped image of rapper Gucci Mane, it's become a popular retort in image macros on Tumblr.

This fan character inspired by Hatsune Miku uses her hair as legs.

This chain copypasta message is closely associated with the "sassy black woman" stock character found in films and television shows.

This phrase criticizing poor video quality has been used in YouTube comments since as early as January 2011.

This Iraqi student and aspiring male model has an impressive collection of cringe-worthy photoshopped head shots.

Nearly two decades before generators were condensed into JPGs, randomized name generating programs were shared on Usenet for RPG fans as early as 1983.

These songs by the music project 009 Sound System are often used as background tracks in YouTube videos due to their inclusion on the site's AudioSwap music service.

This image macro series inspired by a scene in the 2008 superhero film The Dark Knight juxtaposes two thematically related events or actions that lead to drastically different public reactions.

This phrase has been used in reference to people boarding hype trains on 4chan since as early as March 2009.