Can a song be so appalling and cringeworthy to the extent that it's unworthy of ridicule and better to be buried silently?

After an Australian gym-goer attempted to publicly shame a slender weightlifter on Facebook, members of Reddit and 4chan's fitness communities got him banned from the gym.

This slang term for dog was first used online in a 2005 episode of Homestar Runner. Recently, it has become associated with photoshopped images of Shiba Inus on Tumblr.

Popping the big question, it's a game of two extremes.

Blind since birth, Edison first joined YouTube in 2011 to review movies as the Blind Film Critic. Later that year, he started a second vlog channel to share his life experiences without sight, racking up more than 9.3 million views in just under two years.

Try not to tear up while watching these heartwarming video recordings of people reuniting with loved ones they have been separated from.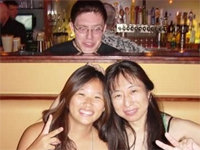 You're probably aware that "In The Way" Guy is only the latest specimen in the long-running tradition of ruining someone else's picture, but questions as to when, where and how it became an internet meme remain yet to be answered.

Reddit's latest photoshop meme stems from a picture of a man accidentally photobombing a couple's marriage proposal at Walt Disney World.