Rahat, the magician prankster behind the viral invisible drive-thru video, shows off his new trick that entails turning ordinary greenbacks into five dollar notes.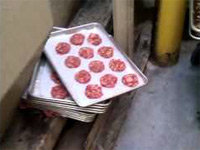 In this latest muckraking of sanitary issues in fast food chain restaurants, an employee at a Golden Corral family restaurant in Port Orange, Florida shares a shocking glimpse of what goes on behind the dining area and the kitchen during a health department inspection.

Rhythmic gymnast Shin Soo-Ji makes the crowd go wild with her one-leg rotating ceremonial pitch at a recent baseball game in Seoul, South Korea.

Meet Jennifer Gabrielli, a 24-year-old bridesmaid who delivered a show-stopping rap toast set to Eminem's 2002 single "Without Me" at her sister's wedding over the past weekend in La Costa, California.

YouTuber Henk Roos began filming this crazed giraffe more than three miles after it started chasing his speeding jeep as if they were in a scene from the 1993 science fiction film Jurassic Park.

Meteorologist Kristi Gordon freaks out on air after a spider walks across the camera during her noon weather forecast.