In this jaw-dropping undercover prank video, French freestyle footballer Arnaud "Séan" Garnier, dressed up as a grumpy old man, schools a group of youths on how to play street soccer like a world champion.

Georgia teenager Kane Zipperman may have lost his girlfriend after discovering that she cheated on him with his best friend, but on the sunnier side of things, he just gained tens of thousands of new followers on Twitter after sharing his epic breakup text jam-packed with internet meme references.

Improvised music is a beautiful thing, especially when it brings strangers together, but it's not exactly something you'd expect to run into everyday on the sidewalk of a shopping plaza. So when Jaime Tatos Maldonado saw three strangers come together for an impromptu performance outside of a grocery in Dallas, Texas, he recorded the whole thing with his phone and share it on Facebook.

This week's GOP primary debate for Idaho's gubernatorial election was supposed to be politics as usual, maybe a predictably polite game of rhetorical ping pong between the incumbent Republican Butch Otter and state senator Russ Fulcher, but thanks to two fringe patriots of the Gem State, this hour-long debate will be now remembered as the most surreal and hilarious debate the state of Idaho has ever seen.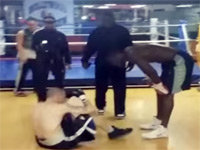 When Charlie Zelenoff, a nefarious Internet troll and self-described professional boxer, decided to challenge Deontay Wilder, the undefeated WBC heavyweight champion, to a boxing match in real life, he probably had a slightly different video playing in his head.

Look Up, a rhyming short film created by Gary Turk, suggests technology and social media aren't connecting us, they're isolating us.

This kid should have blown his nose prior to recording this cover of "Let it Go".

Minnesota teen singer-songwriter Molly Kate Kestner sings "His Daughter," a heart-aching ballad about a girl who gets abandoned by her alcoholic dad and grows up to be a teenage mom.