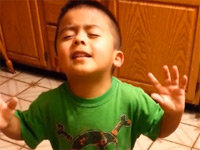 When San Francisco mom Linda Beltran confronted his son Mateo for trying to bargain with his grandma for a pre-dinner cupcake, this three-year-old boy then tried to "honey, Linda, listen" his way out of a hole.

Philadelphia's Department of Human Services has taken a 26-year-old woman's child into their custody after this mobile footage of her struggling to stay conscious as her daughter tries to keep her awake on a transit bus went viral last week.

Twenty strangers kiss each other for the very first time in this short film by the clothing retailer Wren.

It was never really a secret that Justin Bieber is a prick, but who knew he enjoyed being one this much? The latest deposition video leaked by TMZ reveals the troubled singer in some of his most vulnerable moments we've seen yet.

Prankster FouseyTube tricks several men into thinking he is a woman wearing yoga pants. Some of them are not amused.

YouTuber Linh Mai takes Hollywood's badass action film star Jean Claude Van Damme and his epic leg splitting stunt to a new height in a state of weightlessness.

During a recent White House press event on manufacturing innovations, President Obama announced that the U.S. government is working on an "Iron Man" project, then retracted his statement and tried to play it off as a joke by saying "it's classified." But who hasn't heard that before?

Yesterday, comedian actor Seth Rogen made an appearance at a Senate Appropriations subcommittee hearing to offer his testimony on the difficulties of living with loved ones afflicted by Alzheimer's disease, and what is more, all without making a single joke about fapping or getting high!

Just like the "Worst Twerk Fail Ever" video from last September, late-night talk show host Jimmy Kimmel staged this week's viral "sochi wolf" prank with the help of US Olympic luger Kate Hansen, who tweeted the video showing a wolf wandering the hallways of her dorm in Sochi.