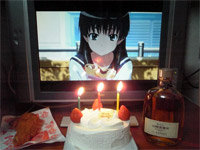 Why dine by yourself… when you can dine with your waifu made of pixels? Check inside for more information on the annual Otaku holiday.

High Altitude Balloon videos are all the rage on YouTube these days! Check out the latest win from "let's launch stuff into space" department, featuring a Lego man from Canada.

After an image considering the differences between modern celebrities and 1950's pin-up stars began being shared Facebook, Tumblr users began remixing the theme, comparing puppies, paintings and more.

The world's largest social networking platform is looking to file for an Initial Public Offering (IPO) sometime in early February, according to the Wall Street Journal's latest update on Facebook IPO rumors.

This new advice animal series features a bitter mother that emotionally manipulates her unwanted children.

Actor Justin Long does his best Mitt Romney impersonation by firing people in a variety of creative ways in this parody of the NBC sitcom The Office.