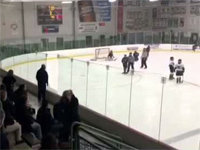 A hotheaded dad gets overly worked up and crosses the line after a foul gets overlooked by the referee during a youth ice hockey game held in York, Pennsylvania. C'mon, Paul, it's just a game, why you heff to be mad?

These recordings typically feature people exhibiting extremely emotional or bizarre behavior in public locations.

Not exactly a "brief" explainer by today's YouTube video standards, but if you've got an hour to kill and learn about every major graphical milestone made in modern times, check out this fascinating infographic documentary on the art history of video games by Stuart Brown (a.k.a XboxAhoy).

The latest multi-pane image macro series trailing from the hype train for Captain America: Civil War shows that two superhero bros in standoff makes a great meme for fandom rivalries.

Renowned evolutionary biologist and outspoken atheist Richard Dawkins reads aloud some of the more vitriolic and poorly written hate mail he has received.

Japanese Twitter users responded to a new Islamic State video threatening the lives of two Japanese hostages by posting photoshopped screen captures of the terrorist with #ISISクソコラグランプリ (#ISISCrapPhotoshopGrandPrix).

Check out our round-up of online reactions to Obama's final State of the Union Address!