The British tabloid site is known for their constant controversies and lengthy inflammatory headlines.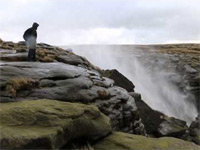 As storm force winds batter the Derbyshire Peak District in England, Kinder Downfall is blown back up onto the plateau instead of cascading 80 ft down the stream.

Bulletproof glass windows were introduced as early as in the 1920s for the protection of bank employees.

The Dancing Baby, one of the first viral videos recorded in internet history, turned 18 this month.

These Internet pranks sites and videos often feature horrifying images and loud noises that abruptly play on a victim's computer.

There are some websites on the Internet you should never visit.

Spanning exactly one minute in length, this award-winning horror short directed by Ignacio Rodó may seem more like a transitional scene than a short film, but holy crap, it comes with a heavy punch at the end.