This mini-film featuring your favorite frozen treats becoming sugary puddles has a happy ending.

A new update for the indie sandbox city-building game Dwarf Fortress has finally been released after two years of development, which includes a number of new features like invasions, the ability to retire fortresses peacefully and revamped dwarven psychology.

New York actor Matt Bittner shows off his impressive ability to transform his voice into that of a teenage girl.

Football fans around the world are still recovering from shock after Brazil, the five-times world champions and home team of this year's tournament, suffered their most humiliating loss ever (7 – 1) in this week's semifinal match against Germany.

Ah, the Internets, where there is equal misrepresentation for everyone, regardless of age, race, sexual identity or religion.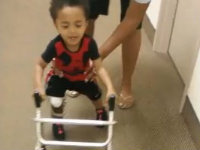 Two-year-old Kayden Elijah Kinckle doesn't let his prosthetic leg slow him down as he masters walking with his little walker.

Vinesauce takes us on a tour around the bizarre parallel universe of Animal Crossing, where its residents and creatures are stuck forever with all sorts of glitches.

The Simpsons patriarch disappearing into a hedge is the perfect way to express your need to hide online.