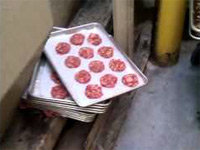 In this latest muckraking of sanitary issues in fast food chain restaurants, an employee at a Golden Corral family restaurant in Port Orange, Florida shares a shocking glimpse of what goes on behind the dining area and the kitchen during a health department inspection.

This advice animal can accomplish any surprisingly difficult mundane task on his first attempt.

Detroit's Fox 2 news reporter Charlie LeDuff undertakes an experiment to find out how long it takes the Detroit's finest to respond to a call about burglary.

Thanks to a group of Japanese school girls (who apparently had a bit too much time on their hands), this martial arts-inspired photo fad has become an international sensation.

Rhythmic gymnast Shin Soo-Ji makes the crowd go wild with her one-leg rotating ceremonial pitch at a recent baseball game in Seoul, South Korea.

Night Blogging has been confirmed, better start staying up late to craft some absurd Tumblr text posts.

Things that Tumblr loves and loves to hate!