In this clip from the anime series Dai Mahou Touge, a self-peeling potato's jump in to boiling broth gets even more dramatic when Guile's Theme is added.

Following last night's shocking episode of Game of Thrones, the Internet erupted with a surge of animated GIFs, image macros and reaction videos inspired by the various plot points.

A young cymbalist for Eisenhower Junior High School in drops one of his discs during a recital of the U.S. national anthem, but manages to pull off a remarkable recovery with a right-hand salute.

Click through to check out this color wheel tribute to Pokémon characters illustrated by Redditor Avalon.

"Cunnilingus" and "HPV" are trending topics of the day on Twitter, thanks to the 68-year-old Hollywood actor who apparently misattributed his bout with throat cancer to the bedroom technique in a recent interview with The Guardian.

Japanese band students have invented a new photo fad that turns the tuba musical instrument into a powerful air-blasting weapon.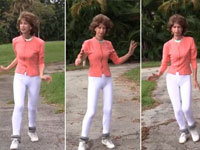 Check out this adorably bizarre exercise described as "a springy, rhythmic way of moving forward, similar to a horse's gait and ideally induced by elation."