This anti-Obamacare hashtag once used by conservatives during the 2012 presidential election campaign topped Twitter's trending topics yesterday after the White House issued a long overdue response to House Speaker John Boehner's call for repeal of the law.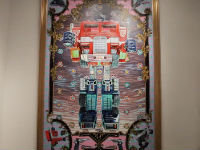 It took artist Robert Xavier Burden eight months to complete this 11×7 foot Optimus Prime oil painting. The time lapse version is less than three minutes.

This chain copypasta message is closely associated with the "sassy black woman" stock character found in films and television shows.

A pair of men from Kensington Church in Michigan decided to test woman logic by undergoing a labor pain simulator.

After producing a commercial thanking the creators of My Little Pony: Friendship is Magic last November, the Brony Thank You Fund has received its official status as a non-profit organization.

Chicago filmmaker Ben Bowman presents a brand new commercial for Amy's Baking Company, one of the most notorious restaurants in America right now.

As if the transatlantic blitz tour of Bluth's pop-up banana stand wasn't enough to get the hype train rolling, comedian David Cross has volunteered to turn his character into exploitable sprites for some good ol' photoshop wizardry.