Our friend Tardar Sauce is celebrating her first birthday today! With a Friskies campaign and a recent visit with Anderson Cooper, we're sure her second year will be even grumpier!

The latest episode of PBS Idea Channel suggests that Community is an example of postmodern television, due to its creative and playful experimentation with genre and narrative.

This fighting game franchise has developed a significant presence online, having spawned fan pages, parody videos, fan arts and Internet memes.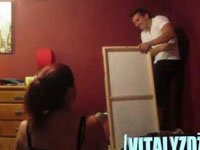 An April Fool's Day prank goes horribly wrong when a son tells his mother he is addicted to drugs.

In this most recent analysis of Harlem Shake's record-breaking success, Kevin Ashton suggests that the viral success of the meme may be attributed to a select few powerhouses in the social media industry, rather than grassroots creatives of the so-called Internet hive mind.

This term has been used to describe the high levels of anticipation surrounding upcoming media releases since as early as 2002. All aboard!

In this bold satire of the red equal sign fad on Facebook, YouTube comedy duo Future Space Cadets explores the future of the gay rights movement in the age of slacktivism.
Note: this video contains NSFW language.