Not the sharpest wolf in the pack.

After a senior member of the Delta Gamma sorority at the University of Maryland sent a rather potty-mouthed e-mail to her fellow sisters, the letter began spreading online after an anonymous tipster forwarded it to Gawker.

In the latest segment of Jimmy Kimmel's "Lie Witness News," concert-goers at this year's Coachella music festival are caught pretending to be fans of made-up band names.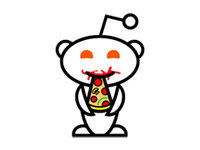 This altruistic subreddit allows users to ask for free pizza or volunteer to purchase pizzas for others in need.

Watch this monstrous whirlpool as it devours everything around it in a flooded area of Dviete, Latvia.

Since the first short comedy skit depicting different animals feeding at a dining table was uploaded on April 8th, it has gained more than 47 million views and dozens of parodies.