Get ready for John DiMaggio's double-shift voice acting in tomorrow night's episode of Futurama, wherein Jake & Finn from Adventure Time will make a guest appearance and cross path with Bender.

Like this if you are not a dog and you would have done the exact same thing in a situation like this.

In March 2013, Domino's Japan released a mobile app featuring Hatsune Miku, allowing users to order pizza as well as take photos with the vocaloid character. The video announcing the app and showing off its features has since become subject to parody in YouTube Poops.

A year ago today, the then-16-year-old American gymnast McKayla Maroney soared to Internet fame for her look of disapproval during the post-game award ceremony at the London 2012 Summer Olympics.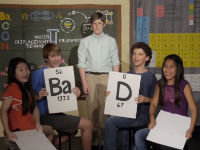 Rhett and Link have condensed the first five seasons of Breaking Bad in to a middle school musical, complete with a singing bag of "blue rock candy."

According to Deadline, E! is working on a new reality TV show that will follow a group of posh teenagers from Beverly Hills who rose to Internet notoriety last year through the viral Tumblr blog Rich Kids of Instagram.