This video advertisement depicts a forensic artist drawing two sketches of women based on their own descriptions and one from a stranger. Since it was uploaded on Sunday, it has been subject to much criticism of its interpretation of what is beautiful.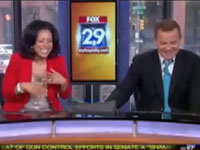 Fox29 news anchors can't help but laugh hysterically after interviewing swimmer and Olympic medalist Ryan Lochte, who doesn't seem to be the sharpest tool in the shed.

Lulzsec member Cody Kretsinger (a.k.a "Recursion") was sentenced to a year in U.S. federal prison, a year of home detention and 1,000 hours of community service, in addition to paying $605,663 in restitution.

Rebecca Black teamed up with YouTuber Dave Days in this music video for her acoustic cover of Rihanna's Stay.

This "retired" American actress has been making celebrity news headlines recently after posting a fury of bizarre tweets on the social networking and microblogging site Twitter.

This Spanish hashtag has been popping up on Instagram and Twitter feeds, acting as a rough equivalent of calling a man a "queen" in English. But where did it start?

As the manhunt for the second suspect continues in Boston today, the Internet detectives switch gears from investigating the crime scene to digging up the Tsarnaev brothers' digital footprint, including one of their Twitter accounts.

In this surreal, self-fulfilling prophecy from a 1992 episode of The Simpsons, Homer explains how the franchise will survive the show business for the next two decades.