A street art tribute to internet memes as seen on a street in Utrecht, The Netherlands.

Memes from Outer Space: Now entering its second week of residence on the Red Planet, Mars rover Curiosity continues to beam home high-resolution color photographs and panoramas in vivid color!

Like Scumbag Steve's younger brother, this privileged suburban teen attempts to emulate urban stereotypes as a wannabe "gangster."

A man's life takes a 360-degree turn for the worst when "his girlfriend's boobs suddenly disappear" in this trailer for the parody psychological thriller Ghost Tits, inspired by the 2004 thriller film The Forgotten.

Memes From Outer Space: These videos, made with a weather balloon, a digital recording device and a Global Positioning System tracker, give a view of the earth from just outside its atmosphere.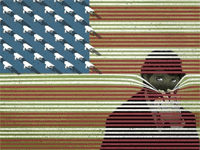 Since WikiLeaks began releasing e-mail transcripts about the U.S. counterterrorist surveillance program "TrapWire" last week, the online whistleblower site has come under severe DDoS attacks carried out by a mysterious hacktivist group known as AntiLeaks.