SNL comedian Jay Pharoah shares his spot-on impression of Lil Wayne during his guest appearance on Sway Calloway's morning radio show Sway in the Morning.

This photo manipulation technique swaps the faces of two or more subjects in an image, often with fairly disturbing or humorous results.

The Guardian's exposé of the secretive U.S. spy agency's phone data-mining operation has caused quite a stir in the social media-verse today, sparking outrage, pessimism and even a few jokes about Verizon's "share everything" plan and its ever-so-fitting catchphrase "can you hear me now?"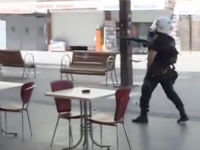 This latest footage from the frontline of Occupy Gezi protests in the capital of Turkey shows a trigger-happy police officer having to deal with his own tear gas canisters.

Jack Nicholson's memorable line from a dramatic scene in the 1992 military court drama film A Few Good Men has inspired a slew of parody videos online.