In this Alternate Universe, government-organized Project Yellow Sphere has created the Polymorphic Autonomous Compound Manipulator, programmed to seek out and consume hazardous targets. However, he prefers cherries.

Three days ago, Milwaukee-based filmmaker Stephen Onderick launched a Kickstarter to crowdfund a documentary film about the life of Brony-loving presidential hopeful.

A rare subtype of reaction images with an uplifting message, this pairing of adorable animal photos and the enthusiastic caption first began on the Argentinean website Sos Groso in September 2004 before seeping into 4chan several years later in 2008.

Popularized by Russian teens, these Skywalking videos are not for the faint of heart. While the views are breathtaking, many of them are filmed by people climbing without safety gear.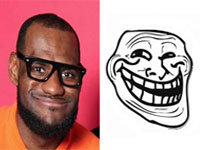 Photoshop Exploitables: A photograph of the Miami Heat basketball player LeBron James inspired a series of photoshopped images on 4chan's /sp/ (sports) board.

The City of Houston brings this disturbingly informative PSA video about how to survive a mass shooting event. Who else doesn't want to live on this planet anymore?

The webcomic The Oatmeal published this surprisingly astute infographic illustrating the relationship between hair length and proximity to violence in the television series Breaking Bad.