Real estate developer Jesse Herzog's "Suitsy," a one-piece men's business suit, was recently funded for its initial run on the crowdfunding site Betabrand.

Meghan Trainor's body positivity song came under fire from feminist sites.

Inspired by a recently published 9to5mac article theorizing what the home screen user interface for an Apple Watch-like device would look like, OS developer Lucas Menge decided to program a prototype version that can be tested on an iPhone.

This guy just looks way too happy.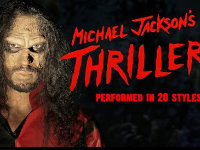 Anthony Vincent covers the Michael Jackson Halloween classic in the styles of twenty different artists.

This misspoken lyric from the R&B song "Thinkin Bout You" by Frank Ocean spawned a series of potato-themed parody videos on Vine.

OK Go, Chicago's alt rock quartet perhaps now better known for their eye-dazzling and seamles choreographies than the songs themselves, continues to live up to their stellar reputation as the maestros of viral videos in the latest music video for their upcoming single "I Won't Let You Down."

In last weekend's Saturday Night Live, actor Jim Carrey absolutely nailed an impression of Mattthew McConaughey from a series of commercials for the Lincoln MKC crossover SUVs.