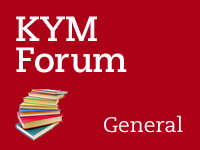 It's simple, recommend a book for the poster above and get a recommendation from the next poster!

Forget about Kim Jong Un and all the warmongering talks for a minute here, what the North Koreans really need is some old school funk music (and probably more food).

Microsoft Studios creative director Adam Orth has made his Twitter feed private after inciting the wrath of the Internet for supporting games that require an active Internet connection.

Translated as "The Cutie Song" in English, this South Korean indie pop song has gone viral in Asia (and now on YouTube) with a repertoire of cute overload hand gestures.