Caleb Hepler's "Shark Song" recut movie trailer, using footage from the 1975 film Jaws, won the Camp Kuleshov trailer editing competition.

Memes of 2011: Don't be confused by this dude's popped collar, he's just trying to avoid sunburn. Also known as Misunderstood Mitch, this advice animal has reasonable justifications for his bro-like actions.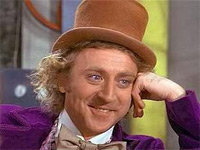 When you see this Wonka in comments or forum threads, it is quite likely there is a n00b in the house.

Watch this time-lapse video revealing the "pixel-molding" process behind Chocolate Invader, a handmade chocolate candy that's cleverly cut out in the shape of Space Invaders.

Our senior entry moderator Trick Lobo recommends:
Also known as "CatBread," Nekopan is a Japanese children's book character that's become a classic internet icon through its iterations on the GIF-sharing hubsite YTMND.

Memes of 2011: This disturbing face photoshop series, in which Steve Buscemi's characteristic eyes are edited on to someone else's face, got its start in a Something Awful Photoshop Friday content.