In this silly parody of wildlife nature documentaries, Trevor from NekoNekoFilms attempts to woo a mate in the urban jungle.

The art of camouflage & espionage has been confirmed.

According to the all-things-brony news site Equestria Daily, this My Little Pony-themed military insignia is actually being worn by undergraduate pilot trainees at the Vance Air Force Base in Oklahoma.

MLZ Studios captured a number of well-dressed cosplayers attending Anime Expo in Los Angeles this weekend, many in outfits inspired by League of Legends characters.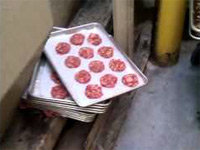 In this latest muckraking of sanitary issues in fast food chain restaurants, an employee at a Golden Corral family restaurant in Port Orange, Florida shares a shocking glimpse of what goes on behind the dining area and the kitchen during a health department inspection.