Got an hour to kill? Watch the full-length movie based on the internet-born urban legend produced by Super Movie Bros.

This exploitable four pane comic is used to express the disappointment one feels after something they believed was right was proven wrong.

This harsh video clip is often used as a reaction to particularly ignorant or bigoted statements online.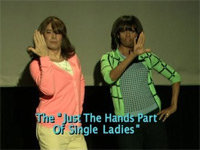 In honor of the First Lady's "Let's Move" campaign, Jimmy Fallon and Michelle Obama present the Evolution of Mom Dancing.

This YouTube channel has been providing parody tutorials since December 2011. The most important part of his how-tos? Smashing raw eggs, even if it's not a recipe.

Try not to die from the cuteness while watching this cat snuggle its teddy bear friend.

Since the debut of the original console in December 1994, Sony PlayStation has gained quite a large following on the web and ranks as one of the most followed brand pages on Facebook with more than 22 million fans.