Michael Birken has been working on this stop motion Post-It Note ode to Ms. Pac-Man and Donkey Kong on variou walls throughout his office on weekends and holidays for the past eleven months.

Trivia: This image is based on the 2011 paparazzi photo of Justin Bieber pulled over by a cop.

This morning, Mark Zuckerberg announced Facebook Home, an app launcher for the Android OS that will deeply integrate Facebook throughout the phone. Some critics are worried that this will allow the site unlimited knowledge about a person's offline activities.

YouTuber MagicofRahat has taken his drive thru pranks to the next level: He's gone from invisible drivers to a headless one.

The mugshot used in this advice animal series has been featured in several "sexy mugshot" compilation posts on various websites.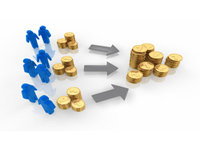 As one of the better known applications of the crowdsourcing model, the DIY-fundraising movement has proven itself to be a promising game changer in many aspects of mainstream pop culture, breathing new life into everything from films and TV shows to music records and video games.

In this gritty reboot, Calvin tries leave his youthful daydreams and imaginary friend Hobbes behind. His imagination has a different plan in mind.

Coined in 1995 as a positive word for activists in the "slacker" generation, this portmanteau has taken on new meaning online for people who support causes in ways that require little to no effort.