For this Valentine's Day, show your friends and family how much you love them by letting them know how close you actually came to even consider seeing them in real life.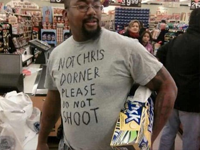 After LAPD shot several civilians in vehicles they mistook for fugitive ex-cop Chris Dorner's truck, Southern California residents began wearing signs asking police to refrain from shooting them because they were "not Chris Dorner."

YouTuber shiftjeenyus added sound effects from the video game Super Mario to this highway FAIL video.

The Japanese anti-Valentine's Day song " 死ね!バレンタイン・デー" about a young man who does not receive any chocolate from his female friends has gained cult status on the web through animated music videos starring well-known anime or manga characters.

Just when you are about to get sick of all the redundant "Harlem Shake" overkills, the men's swim & dive team at the University of Georgia shows that the spirit of one-upmanship is still alive on the Internet.

Will the Catholic Church see its first black pope in the Vatican history?
Save the date for the 266th season premiere of The Vatican's Next Top Pope.

These 8-bit and 16-bit remakes of scenes from television shows and popular films mimic the aesthetics of a 1990s role-playing video game.

The Postmodern Jukebox Band has taken Macklemore's "Thrift Shop" back to the 1940s in their cover of the pop song.