Blind since birth, Edison first joined YouTube in 2011 to review movies as the Blind Film Critic. Later that year, he started a second vlog channel to share his life experiences without sight, racking up more than 9.3 million views in just under two years.


Try not to tear up while watching these heartwarming video recordings of people reuniting with loved ones they have been separated from.


If you thought your commute was bad, it is probably nothing compared to the crowds found at 7:30 a.m. at the Xi'erqi Station in China.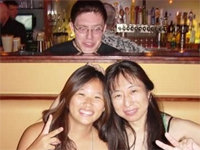 You're probably aware that "In The Way" Guy is only the latest specimen in the long-running tradition of ruining someone else's picture, but questions as to when, where and how it became an internet meme remain yet to be answered.


YouTube comedian Ze Frank presents several zany factoids about the owl in the latest episode of the True Facts series.


Since Tumblr's introduction of "photosets" in 2011, this clever GIF series has been pushing the boundaries of audience expectations by breaking through the walls between the panels, quite literally.


Have you seen what Omar von Muller's dog Jumpy can do? He's the Michael Jordan of canines.