Rapper Lil Dicky rhymes about how easy life can be when you are lucky enough to be born a white male.

To honor the man who stopped his favorite meal midway through to help strangers, more than a dozen restaurants in Cleveland, Ohio have promised to give Charles Ramsey free burgers for the rest of his life.

Customized bingo cards made for specific fandoms, communities or events have been shared online since as early as 2007.

YouTuber VideogameDunkey's dubbed parody of Microsoft's XBox One conference will make you giggle like a little kid.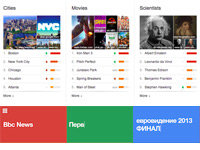 Google's search data analytics service has been revamped with a monthly Top Charts dashboard featuring 40 different categories and a colorful trend visualizer.

Filmmaker Matthew Clarke takes conversations he's had with his two-year-old daughter and reenacts them with a grown man reading her lines.