The adult entertainment company's logo has recently evolved into an exploitable symbol of the Internet's golden Rule 34.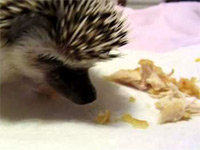 Internet humorist Ze Frank shares some of his highly disputable facts about "mother nature's cruelest predator."

Edible Memes: A bill passed in the Congress last year that upholds the status of tomaste paste on pizza as a vegetable serving inspired the creation of a slew of parodies online.

Redditor FlossDaily's personal confession comes with a twist that will make you nod your head and clap hands. Narrated by Roy Kelly.

Brace yourself, the fist pumps are coming. At least tonight's season premiere is the last one.

Check out KYM Gallery – Image Macros for more captioned lulz.

Edible Memes: Hannah Hart launched this comedic cooking show in March 2011 after filming herself drinking a bottle of wine while trying to make a grilled cheese. Her YouTube channel now receives an average of 57,000 views a day.