This memorable quote said by Captain American in The Avengers has become a go-to reaction image used by commenters when acknowledging a specific pop culture analogy or internet meme referenced by the original poster.

This lady did not appreciate having her credit card declined at a McDonald's restaurant.

The wait is now over. Barney Stinson's dramatic interjection has finally been confirmed!

Check out Microsoft's teaser reveal of its audacious high-definition holographic goggles currently under development, which aims to bring high-definition holograms of anything imaginable in the realm of virtual reality, like your favorite Minecraft constructions for example, into your real world.

In the past year, one of the most restrictive labels in the Australian Classification Board's consumer media rating system has become the butt of a lasting joke among anime fans and gamers on 4chan and elsewhere online.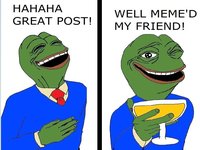 Smug Pepe is amused by your dank memes.

Here's what a AOL-style television commercial for Facebook would look like if the site was launched in the mid-90s.