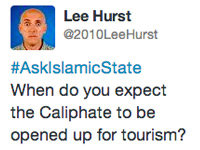 Over this weekend, the up-and-coming jihadist group known for it social media proficiency learned a lesson of their own: no one is safe from getting trolled on Twitter.

Generation gaps, what's that? Teen YouTuber Kevin Droniak gossips about high school drama and pop culture while on a joy ride around town with his super cool grandma.

In the wake of the Zoe Quinn gaming industry scandal, members of 4chan banded together to support her rival indie developer group The Fine Young Capitalists and invented the female video game character Vivian James as an anthropomorphic representation of the image board.

College Humor walks you through the painful process of putting together the big day.

The singer has been accused of cultural appropriation through multiple performances and music videos, must recently for her video for "This Is How We Do."

The Guardians of the Galaxy actor visited with patients at the Children's Hospital Los Angeles dressed as the space outlaw.