This remorseful expression is believed to have originated with the character Gob from the American television sitcom Arrested Development.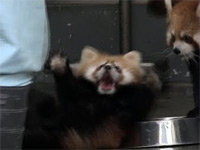 A zoo worker at the Maruyama Zoo in Hokkaido, Japan, scares the bejesus out of a a twin baby red panda.

The legendary "Yaranaika?" face continues to spread in the form of a graffiti prank.

Tumblr users have recently taken to creating parody slideshow presentations as a way to exhibit what they've learned about a topic or fandom solely through their dashboard.

Teens react to Amanda Todd's video and discuss how the problem of bullying should be addressed.

Thousands of youths and college students gathered in front of the White House over this weekend to show their support for Move:DC, a global summit on the Lord's Resistance Army organized by Invisible Children.

This new emoticon began trending on 4chan and Reddit over the weekend, but it is currently unclear how it originated.