Barack Obama feels bad for you, son. He's got 99 problems but in this parody video, Mitt ain't one.

To celebrate his one year anniversary on FunnyJunk, numfortytwo created an animated version of the Soulja Boy/Brodyquest mashup. detailing a theoretical trip from prison to space.

Art of Commenting: This sarcastic expression has been popularized in "circlejerk" communities on the social news site Reddit.

The heavenly matchmaking of Overly Attached Girlfriend with her male counterpart may be one of the creepiest and romantic fake love stories ever told by the Internet.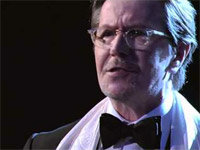 Veteran actor Gary Oldman takes an excerpt from R. Kelly's upcoming memoir "Soulacoaster: The Diary of Me" and turns it into a bona fide dramatic reading session on Jimmy Kimmel Live.

There are more than 430 images that just want to know why everyone is so mad.

Art of Commenting: If you see comments like this on a YouTube video page, bring the volume down or abandon headphones!

Don't want to sleep tonight? Check out our gallery of over 50 videos for the Internet urban legend Slender Man.