In this third episode of the award-winning stop-motion animation web series, our adorable hero Marcel the Shell (voiced by Jenny Slate) returns with more inch-tall tales and even a song for a rainy day.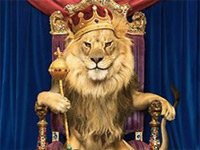 Beyonce has inspired thousands of selfie-takers to show off their fresh out of bed look.

A pair of pranksters pretend to serve "organic" food, which is actually from McDonalds, at a food convention.

Check out this bizarre Scooby-Doo mash-up just in time for Halloween.

The hammerhead sharks of the Galapagos Islands are captured with an underwater GoPro camera.

This weekend's rumored studio raid and arrest of the elusive street artist in London turns out to be a hoax orchestrated by National Report, a satirical "news site" that has previously fooled the Internet with somewhat believable hoaxes like the Fukushima radiation scare and Sarah Palin's racist interview scandal.

In case you missed the terrific ending gag to last night's episode of The Simpsons, the world's most famous American family meet their doppelgängers drawn in the style of characters found in other popular fictional universes.