No Bra Day, held bi-annually on July 9th and October 13th, is meant to raise awareness for breast cancer, but those against it believe it is sexualizing breast health.

After the National Organization for Marriage implied legalizing gay marriage could lead people to marry themselves, Twitter users started imagining what a self-marriage would be like.

Playing catch with a puppy must have been too tame of a game for this little boy, as you can see him having a pretty great time tossing a ball around with a dolphin.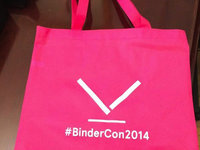 Mitt Romney's now infamous "binders full of women" gaffe at the 2012 U.S. presidential election debate made an unexpected comeback two years later with the launch of the first annual BinderCon, a symposium to empower female and gender-nonconformist writers, in New York City this weekend.

Jimmy Fallon and Zach Galifianakis try to make plans to hang out, but they can't seem to make it work.