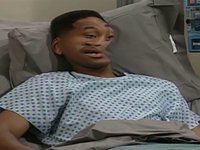 This classic 2011 YouTube poop video saw a resurgence in popularity after a sequel was uploaded by YouTuber Krobojunctions in October of last year.

Jimmy Fallon challenges Christina Aguilera to a musical impressions sing off, in which the two attempt to perform various songs as if they were a randomly selected musical artist.

Looks like Joe Biden has some competition for the Creep of the Month award.

Sure, there's a blockbuster adaptation of Power Rangers in the making, but a couple of Hollywood veterans may have stolen its thunder already with this gritty-bloody "deboot" of every 90s kid's favorite color-coded latex warriors.

Like the infamous "CADbortion" comic from Ctrl+Alt+Del, artist Jeph Jacques' recent strip in which a transgender woman undresses herself in front of her love interest has spawned a series of custom-captioned variations of the comic.