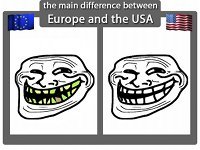 This image macro series originated on a Norwegian humor site in 2004 before being turned into a 4chan exploitable three years later.

America: Fk Yeah!: this multi-purpose expression can be used as both an authentic display of patriotism or an ironic response to United States jingoism.

The men of Epic Meal Time celebrate America with a feast fit for a colonial king: bison, deer, rabbit and of course, bacon.

In the spirit of the Independence Day, change your name and profile picture to a "famous American" (whatever that means) and check-in in the comments!