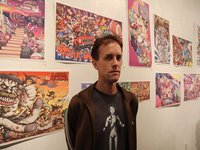 This Australian animator is known for his signature pixel art sprites resembling characters from 2D video games.

Check out 70-year-old Dutch woman Ria's delightful reaction as she rides a roller coaster for the first time in her life.

The Internet equivalent of "let's take it outside, bro."

This Texas woman has a difficult time coping with damage to her car caused by a hailstorm and seems very confused about how to clean up glass.

Could this be the worst selfie fad to ever hit the Internet?

You know what's missing in the opening theme to Game of Thrones? Sounds of goats. We need more goats in the GoT.

In the world of Game of Thrones, the Iron Throne is serious, but online you can find everyone from Iron Man to Grumpy Cat sitting on that seat of power.

A two-year-old's first experience going through a car wash leaves her terrified and her parents amused.

And we've lost another childhood hero of the 90s. The Ultimate Warrior (born James Brian Hellwig) has passed away at age of 54, just days after his induction into the World Wrestling Entertainment's Hall of Fame.