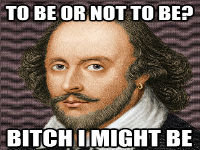 Two weeks after this phrase went viral in a photoshopped image of rapper Gucci Mane, it's become a popular retort in image macros on Tumblr.

Parodies using this opening theme song from the Japanese anime series Lucky Star have been popularized on the video-sharing site Nico Nico Douga.

The tech news blog Mashable produced this helpful public service announcement teaching Google Glass owners how to avoid being jerks.

Even Jesse Pinkman is disturbed by this scientific discovery.

This photograph of a Jacksonville Jaguars offensive lineman kicking a ball has inspired a photoshop meme placing the football player in a variety of humorous contexts.

There is an epic war brewing between dogs and the only cat left on Earth in Swiss American Federation's latest music video directed by Jimmy and Freddie Wong.

This fan character inspired by Hatsune Miku uses her hair as legs.

Artist Joey Spiotto has reimagined Portal as a children's book. Gotta start 'em young.