The IFHT comedy group produced this sketch about what Diablo III would be like if it was a woman.

YouTuber TripleKyu uploaded this song mash-up of Kanye West's "Touch the Sky" with the opening theme from the anime The Melancholy of Haruhi Suzumiya.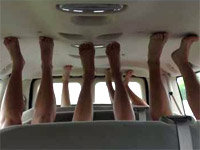 Remember Harvard baseball team's lip dub cover of "Call Me Maybe" from last week? A new challenger appears! Also check out the side-by-side comparison of the two videos.

Adult Swim has officially announced that the cartoon programming block Toonami will return on May 26th. #ToonamisBackBitches

For more mind-blowing realizations, check out KYMdb Gallery – Matrix Morpheus.