In 2005, Nathan Rabin came up with the term "Manic Pixie Dream Girl" to describe the kind of magical, free-spirited girl popping up in indie dramas, but now that it has taken on a life of its own, the writer says he is sorry for creating what some have called a "patriarchal lie."

What was supposed to be a routine performance of the "Incredibles Dance Party" at the Disney World takes an unexpectedly dark turn when Elastigirl of the Incredibles trips over a mat during her entrance on stage and her face comes off in front of live audience.

Weird Al Yankovic, the grandfather of all pop music parodies, continues his month-long media blitz for his new album "Mandatory Fun" with his third music video of the week "FOIL," which spoofs Lorde's 2013 hit single "Royals".

The family of Matthew Burdette, a San Diego teenager who took his own life after a secretly filmed video of him masturbating went viral on the web, has filed a lawsuit against the school district for failing to take disciplinary action against the schoolmates who bullied their son.

Nowadays, hardly a week goes by without a new episode of cyberbullying in the headlines, but it was a Florida teenager's public feud with 4chan in July 2010 that shed the light on the blurring line between trolling and cyberbullying for the first time ever.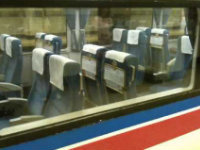 Like swivel chairs of the future these seats prepare for their next trip by spinning around to face the opposite direction.