About
Galaxy Brain, also known as Expanding Brain, is a multi-panel exploitable image series comparing the brain size of a person relative to other variables. Though the expanding brain is usually implied to showcase intellectual superiority over various objects, it is more often used in an ironic sense to imply the opposite, where objects of derision are implied to be of higher standard than objects that are usually highly regarded. For example, when used with Whomst, a person who uses "who" will be shown with the smallest brain, while a person who uses the most ridiculous variation, i.e. "whomst'd've", will be shown with the largest brain.
Origin
This meme originated as part of the "Whomst" meme where the left column was derivations of the word "Who" were paired with increasingly elaborate pictures of brains depending on how intense the "who" variation was. One of the most popular early examples was posted to /r/dankmemes on Reddit on January 31st, 2017 by janskishimanski[1] in a post that gained nearly 1,200 upvotes.

Spread
As "whomst" variations on the Expanding Brain template grew more elaborate, other subjects were applied to Expanding Brain, such as video games and politics. Expanding Brain variations continued appearing on /r/dankmemes and /r/MemeEconomy throughout the month of February.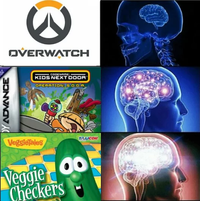 A video version of the meme posted by user BagelBoy in February 2017 gained over 2.1 million views (shown below).
The meme was covered by media outlets including PopSugar,[3] New York Magazine,[4] Mic,[5] and others.
Similar Memes
The template of the Expanding Brain meme has been used with various other characters.
Vince McMahon Reaction
While the Vince McMahon Reaction existed as a video and GIF meme prior to its use as an Expanding Brain meme, the clips of McMahon were used in the Expanding Brain template after that meme got popular.



Motion Blurred Astronaut
Motion Blurred Astronaut refers to three images of an astronaut in a photography textbook taken to demonstrate the effect shutter speed can have on motion-blur. It began being used in memes in April 2017 due to its aesthetic similarity to other popular memes of the time which use motion-blur and distortion effects.
On April 2nd, 2017, Tumblr user the-captains-on-shore-leave uploaded a picture of a photography textbook demonstrating the effects shutter speed has on motion blur by showing three different pictures of an astronaut. They captioned the post, shown below, "i can't stop laughing like i know it's supposed to be educating me on shutter speed but it just looks like a fucking meme." The post has gained over 35,000 notes as of April 11th.

Various Examples



Drake Sprite Commercial Remix
In 2010, Sprite released a commercial featuring rapper Drake, drinking a Sprite while recording and exploding (shown below).
Eight years later, a series of Expanding Brain memes featuring three respective stages of Drake's explosion.[2] On June 23rd, 2018, Instagram account @SonnySideUp[6] posted a Tanking the Bus Driver edition of the meme, garnering 43,600 likes within the first 90 days. Two days later, it was shared on Reddit. Shortly after, more users began using the format (examples below, center / right).



Various Examples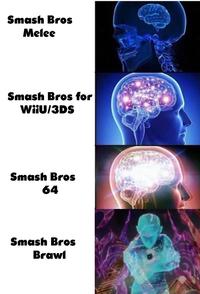 Search Interest
External References