I ❤️ Monogamia / I Love Monogamy
This submission is currently being researched & evaluated!
You can help confirm this entry by contributing facts, media, and other evidence of notability and mutation.
About
I ❤️ Monogamia, also known as I Love Monogamy, refers to a Photoshopped image macro featuring the dog Jotchua being hugged by another puppy with the overlay text "❤️ Monogamia." The image was popularized on February 2022 on Twitter and is often used as an ironic meme related to monogamous relationships.
Origin
On February 22nd, 2022, Twitter[1] @emiipolli posted an image of the dog Jotchua photoshopped alongside another puppy hugging him with the overlay text "I ❤️ Monogamia." The Brazilian also added the caption "I lov[e] monogamia" in the tweet, which received 66,000 likes in 13,800 retweets in a year. (seen below)

The original image can be tracked to late February 2008 as part of an ultra-low resolution meme trend from South Korea[2]. (seen below)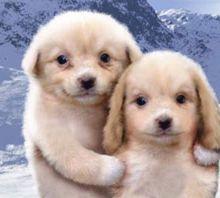 Spread
A few months after the viral tweet from February 2022, the image macro started to be used in posts defending monogamous relationships. For example, Twitter[3] user @moisesdoegito_ posted the "I ❤️ Monogamia" image on March 22nd, 2022, alongside a caption in Portuguese explaining he doesn't know how to hook up with someone, and usually "marries" the person alluding to his preference for monogamous relationships. The tweet (seen below) garnered 644 likes and 121 retweets in a year.

The opposite version of the meme was created shortly after the image macro went viral on Twitter. For instance, user[4] @nobodycareslena posted the meme recaption replacing the heart emoji with "hate," forming the phrase "I Hate Monogamia." The post garnered 283 likes and 81 retweets in a year.

Various Examples




Search Interest
External References
Recent Videos
There are no videos currently available.