About
Mike Wazowski Singing refers to a series of image macros featuring the character Mike Wazowski from the 2001 Pixar animated film Monsters, Inc seated on a chair and singing into a microphone. Online, the image has been used to express emotional or dramatic vocal characteristics.
Origin
On September 17th, 2002, the film Monsters, Inc was released on VHS and DVD.[1] Along with the movie, the release featured a short outtake from the film entitled "Put that thing back where it came from, or so help me!" In the short, the character Mike Wazowski singing while seated on a stool and a larger image of Wazowski is overlaid on top of him, parodying the music video for Michael Jackson's "She's Out of My Life."[2]
The earliest available usage of a screen capture of Mike Wazowski singing was posted by FunnyJunk [9] user spadeface on January 18th 2016, They captioned the image, "I love the varying degrees of reaction."

Spread
On April 1st, 2017, Twitter [3] user @c0mic_sans posted one of the earliest image macros using a screen capture from the scene. They captioned the post, "Me drunk telling my life story even though no one asked." Within 16 months, the post (shown below, left) received more than 65,000 retweets and 200,000 likes.
The following month, May 3rd, 2017, Tumblr [4] user drdrdrfitzsimmons posted a screen capture of the image with the caption "Me, giving my wholly unsolicited opinion to my unsuspecting followers:" The post (shown below) received more than 715 notes in 15 months.
In 2018, the image became the subject of a meme of people reminiscing about songs from their childhood. The earliest known example of the meme was published on August 7th, 2018 by Twitter[5] user @mikerryyan, who posted the image with the caption, "Kanye: in the night, I hear em talk the coldest story ever told, somewhere far along this road, he lost his soul, 5th grade me: to a woman so heartless" The post (shown below, right) received more than 90,000 retweets and 230,000 likes.



Various media outlets covered the meme, including Mashable, [6] BuzzFeed [7] and more.
On August 12th, 2018, Twitter[8] published a Moments page regarding the popularity of the image.
Various Example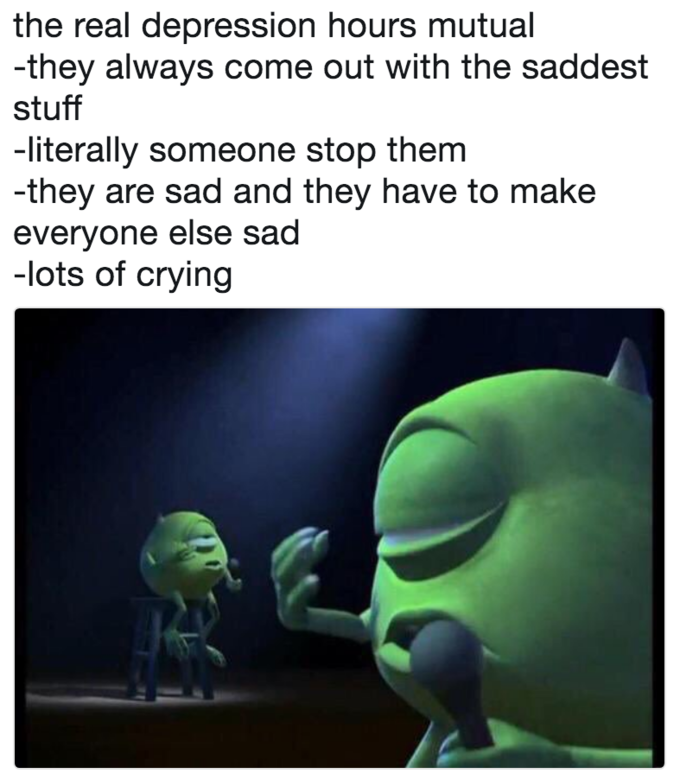 External References
Recent Videos
There are no videos currently available.