About
Snoop Dogg is the stage name used by Calvin Cordozar Broadus Jr., an American hip hop recording artist and actor well-known for his uniquely laid-back, soft-spoken style of delivery and widely credited for popularizing the style of gangsta-funk (G-funk) rap in the early 1990s. Outside of his music career, the rapper has also become an international icon within the stoner subculture due to his consistent inclusion of lyrical references to recreational use of cannabis in his songs, and later on, public advocacy of marijuana legalization in the United States.
History
Music Career
The Long Beach, California-based rapper made his career debut in 1992 under the stage name of "Snoop Doggy Dogg with his featured credit on "Deep Cover," Dr. Dre's debut solo single released as part of the soundtrack for the 1992 crime thriller film with the same name. He continued to work in collaboration with Dr. Dre, guest featuring on Dr. Dre's debut solo album The Chronic before eventually releasing his first debut album Doggystyle in 1993 under Death Row Records. Upon its release, the album immediately rose to the number one spot on both the Billboard 200 and Billboard Hot R&B/Hip-Hop Songs charts, selling nearly a million copies within the first week. Two singles from the album, "Gin & Juice" and "What's My Name," were particularly well-received by the critics and fans alike as quintessential tracks that showcase the sounds of west coast hip hop (shown below).
Since his debut in 1992, Snoop Dogg has released 12 studio album, four collaborative albums and 127 singles under several derivative stage-names, most notably Snoop Dogg and Snoop Lion, selling 30 million copies of albums worldwide in aggregate. In addition, the rapper has collaborated with dozens of well-known artists both within the hip hop community and pop music at large, including Tupac Shakur, Katy Perry, Pharrell Williams and Psy, among others (shown below).
Online Presence
On July 6th, 1998, the artist's official website was registered under the domain SnoopDogg.com, which remains active to this day. Having been a critically acclaimed rapper and pop culture symbol of the stoner subculture, Snoop Dogg commands a large online following from both hip hop and cannabis enthusiast communities in the social media. On March 30th, 2007, the rapper created his official Twitter account under the handle @snoopdogg, which has more than 11.8 million followers, as of January 2015. On March 15th, 2008, the rapper launched his personal YouTube channel WestFestTV, which has drawn more than 1.1 million subscribers and nearly 381 million total channel views in less than five years. As of January 2015, he has over 2 million followers on Facebook on the Calvin Broadus profile[10], 38 million likes on the Snoop Dogg profile[11] and over 11 million followers on Twitter[12].
Fandom
Due to the rapper's aforementioned reputation as an avid weed smoker, Snoop Dogg has a relatively long history of memetic footprint in the world of online parodies, with some of the first notable online jokes about his love for getting high found on FARK and Something Awful dating back to the early 2000s. Snoop Dogg has also several blogs dedicated to him on Tumblr, like fuckyeahsnoopdogg[5] and Snoop Dogg Doing Awesome Things[6]. He also has a sub-reddit[7] and has done an AMA on the IAmA sub-reddit, using the alias "Here_Comes_The_King"[8]. He is also a moderator for r/trees, a sub-reddit dedicated to weed and weed culture[9].

Parodies
However, Snoop Dogg's internet fame didn't reach its first peak until October 2006, when YTMND user Barf created a site titled "Snoop Dogg's Dreamland (full song)," featuring in-game footage from Kirby Super Star and a mash-up song that combines the theme from the Gourmet Race mini-game level and the chorus line from the rapper's 2004 hit single "Drop It Like It's Hot." Later that same month, a second YTMND site[3] featuring enhanced graphics was uploaded by the same author, which has been viewed more than 785,900 times, as of January 2015. On November 1st, 2006, the follow-up version was reuploaded as a video clip to YouTube, where it earned more than 3.4 million views in just under six years.
Following the viral take-off of video game music (VGM) remix parodies set to Snoop Dogg's rap lyrics in late 2006, both the cutout image of Snoop Dogg and his memorable lyrics soon became incorporated into other sub-genres of remix fads on YouTube, most notably in Montage Parodies, YouTube Poop music videos and Blingee GIFs.
Related Memes
"Smoke Weed Everyday"
Smoke Weed Everyday is a lyrical part from the 2000 rap single "The Next Episode"[3] by Snoop Dogg and Dr. Dre. The phrase has gained usage in numerous image macros, music remixes and YouTube Poop Music Videos .



Snoop Lion
In 2012, after a trip to Jamaica, he announced that he had converted to the Rastafari Movement and had decided on a new alias, Snoop Lion. Under the alias, he released a new studio album called Reincarnated[1].

Snoop Dogg and Kurt Cobain Photoshop
On July 3rd, 2019, Vemix posted a photoshopped image to Instagram[16] of Snoop Dogg and Kurt Cobain spending time together (shown below, left). The next day, Snoop Dogg reposted the image to Instagram[17] captioning it "Young dogg with. Kurt 🤜🏾😎92" which gained over 659,000 likes in four days. On July 5th, Twitter user @shadieboy[18] posted screenshots of the original pictures and the photoshop saying, "Yo @SnoopDogg smoked himself so stupid that foo really thought this shit was real lmfao" (shown below, right). The tweet garnered over 127,300 likes and 27,100 retweets in three days.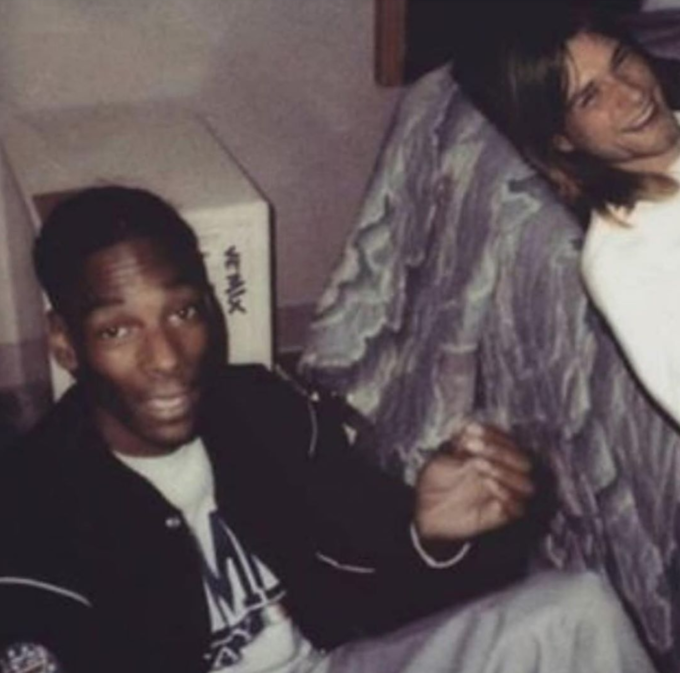 Personal Life
He is currently married to Shante Broadus, and has three children. His reported net worth is $135 million USD[2].
Search Interest
External References