About
The Babadook is a 2014 indie psychological horror film directed by Jennifer Kent in her directorial debut. The film was a huge critical success and made 2.5 times its budget. It has spawned a devoted fanbase, including an ironic gay fandom that has adopted the title monster as a gay icon.
Plot
The Babadook centers around a mother and child living in the aftermath of the father's death, which occurred when he was driving the mother to the hospital as she was in labor.[1] The child, Samuel, is difficult, and the mother, Amelia, is exhausted with the behavior of her son. One night, they read a pop-up book called The Babadook, which has mysteriously appeared in their house. The book tells the story of Mister Babadook, a tall man in black with a top hat who, once let in, cannot be eradicated until he kills the host. Amelia is disturbed by the graphic story and Samuel becomes convinced the monster is real. As the story unfolds, Amelia grows increasingly manic as she is unable to tell what is real and what isn't, and is perhaps becoming infested with the Babadook.
Development
The film was Kent's first full-length film and was produced on a budget of $2.5 million. It was shot in Adelaide, Australia and interior shots were mostly filmed in a soundstage. A Victorian terrace house was built specifically for the film. It premiered in January of 2014 at the Sundance Film Festival and had a limited run in Australia that year, premiering in just 13 theaters. It initially opened in only 3 theaters in the United States. However, following positive critical reception, it was able to grow to a massive success.
Reception
The film was very positively reviewed, with a 98% rating on Rotten Tomatoes[2] and an 86 rating on Metacritic.[3] Critics praised the film's moving story and commitment to horror without jump scares, as well as the performances from the two leads.
Fandom
Fan reception to the film has been strong as well. On Facebook,[4] The Babadook has over 160,000 likes. There is also a large amount of fan art on DeviantArt devoted to The Babadook.[5] One notable instance of Babadook fandom was posted to Twitter on June 30th, 2016, when writer Katie Dippold tweeted about a Halloween party she attended dressed as the Babadook only to discover it wasn't a costume party (shown below). Her tweet gained over 76,000 retweets and 146,000 likes and was covered by New York Magazine.[6]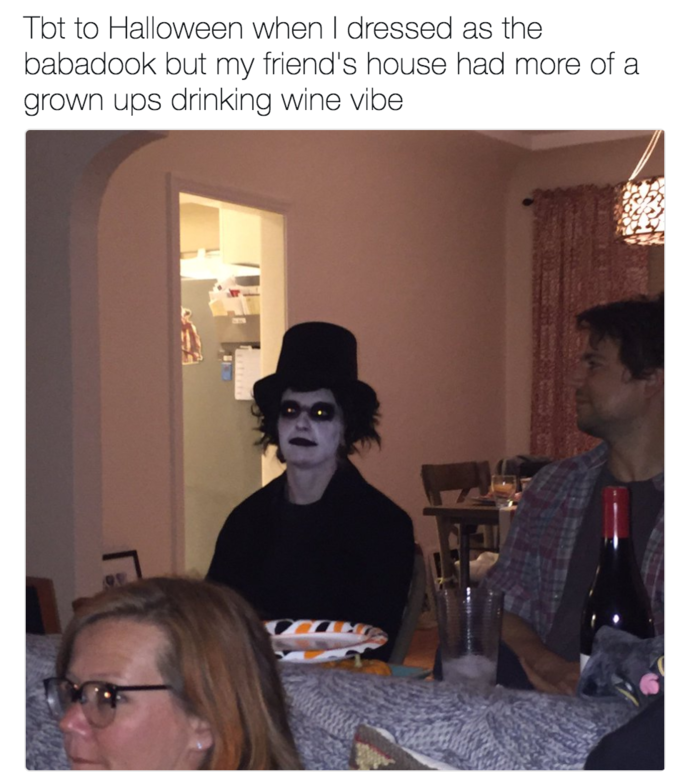 Gay Icon
In early 2017, a joke that The Babadook was gay began spreading through Tumblr and eventually Twitter. On December 10th, 2016, Tumblr user Taco-bell-rey[7] uploaded a screenshot of The Babadook appearing in the LGBT section of Netflix. The post gained over 126,000 notes, and likely launched the idea that The Babadook was a gay character and icon.

The idea continued to spread throughout Tumblr as ironic, trolling discourse. On February 15th, 2017, Twitter user @Broderick[8] uploaded screenshots of such dialogue, gaining over 5,000 retweets (shown below).

The meme drew its most attention when June, LGBT Pride Month, began. Then, the jokes about Babadook's gay identity spread with such fervor they were covered by Mashable[9] and Teen Vogue[10] (examples shown below). As of June 7th, much of the Tumblr[11] discourse around the Babadook centers around him being a gay icon.



Why Can't You Just Be Normal?
Why Can't You Just Be Normal? refers to a scene from the film in which the protagonist turns to her son in her car and cries "Why can't you just be normal?", leading the child to respond by shrieking. The scene became an exploitable where the characters are labeled as different objects.

Limited Edition Pride Blu-Ray
On June 3rd, 2019, IFC Midnight[12] tweeted: "To celebrate #PrideMonth, we've teamed up with @ShoutFactory for a limited edition of THE BABADOOK. Even better than this? A portion of all sales in June go to the @LALGBTCenter. So yeah, we're the screaming kid right now and we're not sorry!" (shown below). The tweet garnered over 500 likes in a day. The limited edition blu-ray has a a rainbow color.

That same day, Twitter user @Keviatha[13] responded by posting a Mr. Krabs meme about companies using rainbow colors to capitalize on Pride month (shown below, left). The tweet accumulated 50 likes in a day. The next day, @MeownTown[14] responded to the blu-ray announcement by tweeting, "the babadook being gay is an lgbt+ joke, i'm personally really glad the creators of the movie are acknowledging a meme that us queers made. maybe it's capitalism, but it's hilarious capitalism." The tweet gained over 40 likes that day (shown below, right).


Search Interest
External References