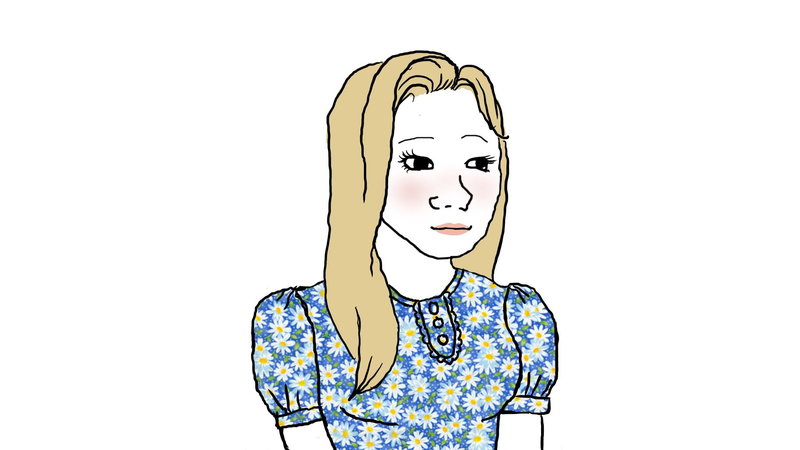 About
Trad Girl or Trad Wife refers to a female Wojak variation with blond hair and wearing a blue floral sundress. Initially circulated on 4chan in posts related to traditional and conservative values, the character received more significant spread online after gaining popularity in Yes Chad memes and other Wojak Comics.
Origin
On July 9th, 2019, an anonymous 4chan[1] user posted an image of a blond female Wojak wearing a blue dress with white flowers to /pol/ board (post and image shown below).


Spread
Starting in July 2019, Trad Girl was used in posts on /r9k/,[2] /pol/,[3] /v/[4] and other boards, particularly in posts arguing for or against traditional values (post examples shown below). On July 28th, 2019, a /r9k/[5] user posted a Trad Girl version with pursed lips (shown below, right).



Starting in early October 2019, the character gained popularity in Yes Chad / Nordic Gamer memes on Twitter,[6] 4chan,[7] 2ch.hk,[8] wykop.pl[9] and other websites. For example, an October 1st, 2019, meme posted by Twitter[6] user @harinef received over 420 likes (shown below, left). A same-day post by @ru2ch Twitter[10] account received over 280 likes (shown below, right).


On October 13th, 2019, Russian artist NEIROVAL posted a fan art of Trad Girl with Nordic Gamer on VK[11] and Virink (shown below).[12] In the following months, the fan art has been actively circulated in Yes Chad memes on Twitter, Instagram, iFunny and other websites.

In many examples, Trad Wife and Nordic oppose the Soyjak and Mommy E-Thot. Additionally, Trad Girl gained notable popularity in fan art.
Various Examples






Templates


Search Interest
External References