PROTIP: Press 'i' to view the image gallery, 'v' to view the video gallery, or 'r' to view a random entry.
About
The Rocket Propelled Chainsaw (a.k.a Rocket Chainsaw or its registration name : RPC M1B) is a fictional weapon that gained legendary status as one of the most advanced and awesome lethal piece of equipment ever conceived by the internet, with maximum efficiency against zombie creatures.
Origin
On December 24th, 2005, MilitaryPhotos.net user "Sergey31" created a thread entitled "Rocket Propelled Chainsaw in Action"[2] in which he presented a small comic strip he made based on an idea by someone named Mr. Skorotsnoy. The first pane shows a diagram representing a side view of a new concept of weaponry: The Rocket Propelled Chainsaw, labeled RPC M1B. The rest of the comic depicts its usage in a warzone, "Somewhere in Chechnya", supposedly against the Talibans.
From that comic, two peculiar images gained recognition:
The Design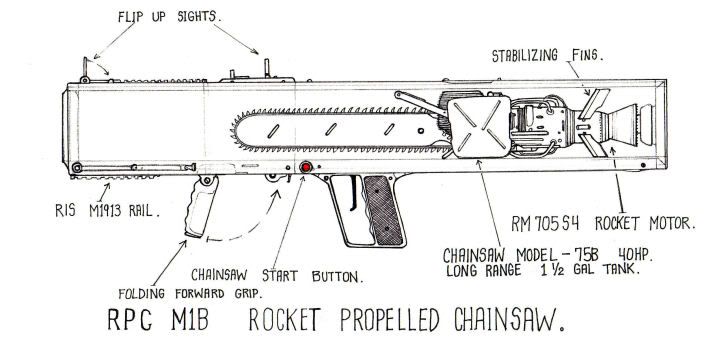 Illustration of
RPC

in Action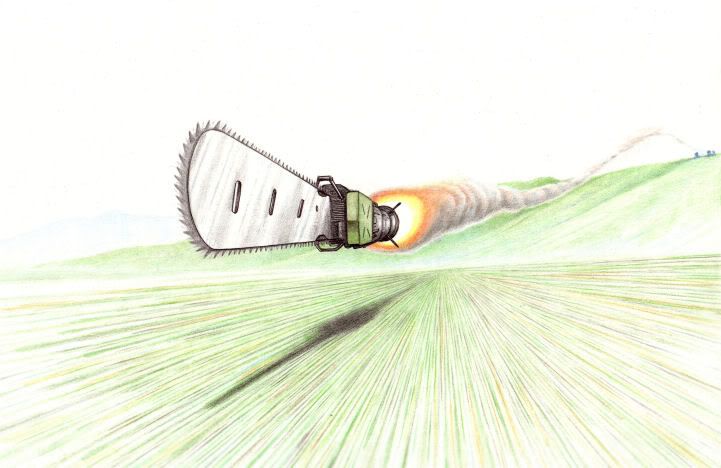 Spread
The fictional blueprint from the weapon was featured on Herogames Forum[3] and MoPo Forum[4] in between October and November 2006, as well as getting spotlighted on CollegeHumor[5] in February 2007 with the title "Rocket Propelled Chainsaw. Clearly the only way to defeat a bear that has sharks for arms."
In October 2007, the concept of Rocket Propelled Chainsaw became a popular topic on DeviantART[20] and Facepunch Forum[6], where users began creating 3D renderings of the weapon. The 3D drawings made a full circle when the original RPC artist Sergey31 picked up the links and re-introduced them in MilitaryPhotos Forum[7][8], inspiring others to draw their own versions.
By the end of 2008, Rocket Propelled Chainsaw earned its own Urban Dictionary[9] entry, as well as getting ranked by Uncyclopedia[10] at #15 in the "List of Weapons That Shoot Other Weapons That Don't Exist, But Should"[11].
In 2009, the schematic was adopted as a game item in Mutant Future RPG[12] and an IRL concert poster by LiveJournal[13] user "gainesvillegoth." In addition, several Facebook Groups[14] were created in homage to the conceptual weapon
In 2010, multiple blogs began highlighting the weapon as the most efficient way to slice through a zombie apocalypse, notably via GeekoSystem[15], Gadget Crave[16], GreatWhiteSnark[17], This Is Freaking Ridiculous[18] and UnrealityMag[19] among others.
YouTube Videos
That new weapon has been also reiterated through videogame MODs.
Soldat :
Cortex Command :
Search Interest
External References
Facebook Comments