PROTIP: Press 'i' to view the image gallery, 'v' to view the video gallery, or 'r' to view a random entry.
This entry has been rejected due to incompleteness or lack of notability.
To dispute this DEADPOOL flagging, please provide suggestions for how this entry can be improved, or request editorship to help maintain this entry.
DO NOT LOOK AT THIS ENTRY I DIDN'T KNOW THERE WAS A STICK MAN ENTRY ALL READY SO I POSTED IT!
Sorry for wasting your time…
A stick man, also known as stick people, stick figures, or "sticks" are very simple and basic drawings of a humanoid figure or animal. Using easy to create lines, circles and other shapes are the basics to creating a stick man. This simplicity is what has made stick figures so popular in Flash animations, games and other areas of the internet.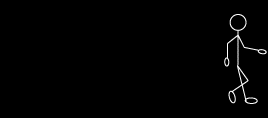 This picture is a basic animation of a stick man.
Stick figures are commonly drawn by young children due to the fact that a stick man is very basic and easy to remember. A "stick" is commonly drawn by using as straight line for the body, two slanted lines in the middle of the body to represent arms, and and two straight lines that are also slanted at the bottom of the stick body to represent legs. Sometimes a stick figure is given facial features, hair, and sometimes other articles of clothing where as other people just keep it as it is without adding anything else.
Suprisingly due to the fact that stick figures are simple, they are used in complex and violent games and animations. This is probably due to the fact that it is (yet again) very simple, and because a stick figure dosen't look like a person which reduces how graphic a game or animation is in some peoples minds. But because stick figures still look like humans, they are still able to hold items and preform all of the same tasks we can as well. (Using weapons, kicking, typing, ect.)
Recent Images
There are no images currently available.
Facebook Comments