PROTIP: Press 'i' to view the image gallery, 'v' to view the video gallery, or 'r' to view a random entry.
Warning: This page contains material that may be considered not safe for work.
This submission is currently being researched & evaluated!
You can help confirm this entry by contributing facts, media, and other evidence of notability and mutation.
About
"First Date" is an exploitable comic that is used in various situations of a first date, ending with the boy and/or the girl alone, regretful, laughing and/or having sex.
Origin
The original comic was posted on September 22, 2011, by animator Bertrand Todesco[1] on his blog:

(So…I gave you all the papers for the refunds.) (Yep.)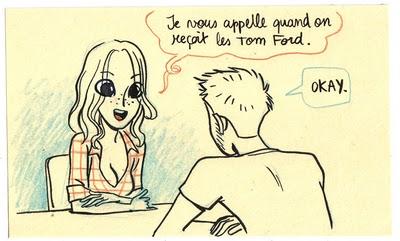 (I'll call you when we receive the Tom Ford.) (Okay.)


(Oooh! Your watch is soooo cute!!)


(Uh … Yeah … Thanks.) (It's so small!)


(This is…this is the first time a girl told me that!)


(This is what could have happened.)


(What really happened:)


(Even if you don't get much money back, keep your insurance. You never know.) (Sure…) (For twenty euros more per month, you know how much I have to pay? Two hundred euros a month!)


(For me. My son. And my husband. Heehee.) [I'm screwed.]


(Because, honestly, how many of you noticed

THIS

detail in the first panel? Huh? How many of you? Not me, anyway…)

Nearly a year later, three of the panels were posted on Tumblr by Miss Bonnie Bunny[2]:
Notable Sites
• Facebook – Primeiro Encontro
• Facebook – O Primeiro Encontro
• Facebook – Primeiro Encontro
External References
[1]Ma vie tient sur un bloc de Post-It – Mickey Enigme – chez l'opticien
[2]Tumblr – I, the Last Unicorn
Recent Videos
There are no videos currently available.
Facebook Comments