PROTIP: Press 'i' to view the image gallery, 'v' to view the video gallery, or 'r' to view a random entry.
This entry has been rejected due to incompleteness or lack of notability.
To dispute this DEADPOOL flagging, please provide suggestions for how this entry can be improved, or request editorship to help maintain this entry.
About
Potato is commonly used mockingly as a reply to obvious or idiotic questions or to mock many other memes.It is also used as a popular trolling method.It started to gain popularity after the release of The Ringer although it reached it's peak in popularity following the release of Portal 2 in which the Player carries around a malevolent computer attached to a potato.
Notable Examples
Guy 1:Hey do you know what the new Call of Duty game is called?
Guy 2:Potato
"
"
"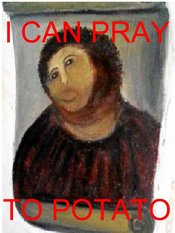 "
Search Interest Over Time
Recent Videos
There are no videos currently available.
Additional comments have been disabled.