PROTIP: Press 'i' to view the image gallery, 'v' to view the video gallery, or 'r' to view a random entry.
About
"France Is Bacon" is an expression stemming from a misheard quote attributed to the 16th century English philosopher Francis Bacon.
Origin
On October 28th, 2010, Redditor OrdinaryPanda submitted a post to the /r/AskReddit[1] subreddit, which asked what words or phrases other Redditors misunderstood as children. In the comments section of the post, Redditor Lord_Baron confessed to mishearing the quote "Knowledge is power – Francis Bacon" as Knowledge is power, France is bacon." Prior to being archived, the commented accumulated over 7,600 up votes.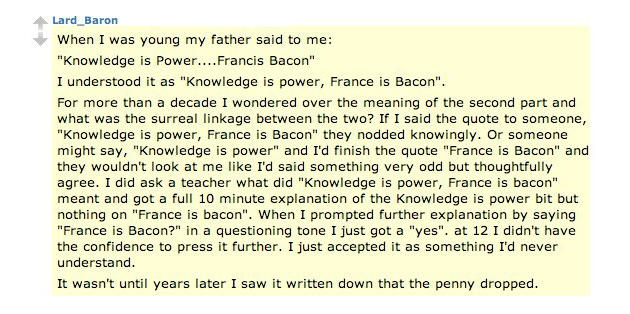 Spread
On December 6th, 2010, a Yahoo Answers question was submitted asking why people say "France is bacon." On November 12th, 2012, a t-shirt with the misheard quote was placed for sale on the online retailer Zazzle[5] (shown below).

On October 24th, 2011, the Internet Humor blog Tastefully Offensive posted a screenshot of Lard_Baron's comment. On March 16th, 2013, Imgur[3] user lucaniel reposted the screenshot, which garnered upwards of 119,000 views and 200 comments in the following seven months. On September 8th, the Global Times[2] published an article which recounted the Reddit comment.
Search Interest
External References
Recent Videos
There are no videos currently available.
Facebook Comments