PROTIP: Press 'i' to view the image gallery, 'v' to view the video gallery, or 'r' to view a random entry.
This submission is currently being researched & evaluated!
You can help confirm this entry by contributing facts, media, and other evidence of notability and mutation.

About
Hachune Miku (Japanese: はちゅねミク)[1] is a nickname given to a fan-made Vocaloid character inspired by Hatsune Miku. She maintains a similar look to Hatsune Miku, with blank eyes and swirling pink cheek marks to highlight her childish cuteness. Hachune Miku was the first fan creation to receive official recognition from Vocaloid publisher Crypton Future Media.
Origin
Hachune Miku first appeared in a video parody of Loituma Girl, which was first uploaded to Japanese video sharing service Nico Nico Douga (NND) on September 4th, 2007.[2] The Vocaloid version of levan Polkka was composed by Otomania[3], Japanese music creator and flash animator who was previously well known on 2channel. The redrawn moe version of Miku was done by Japanese flash animator Tamago (たまご).[4] On September 11th, 2007, Otomania announced in a blog post that they decided to call her "Hachune Miku,"[5] as "Hachune" is a childish mispronunciation of "Hatsune."
Spread
Because of the character's cuteness, Hachune Miku quickly gained notoriety in the Vocaloid fandom, resulting in a number of MAD videos in late 2007 that helped define her character. An October 2007 clip gave her the personality of an innocent monster after an NND user paired an animation of her with the audio from the Angry German Kid video. That December, another fan coupled an animation of Hatchune dreaming of various foods with the theme from anime series The Tower of DRUAGA (shown below, right)[7], resulting in her being seen as highly appreciating food.
In November 2010, Finnish newspaper Yle Uutiset[13] looked at the Hachune Miku character in a report about the popularity of Ievan Polkka online. As of June 2013, more than a 1,700 videos featuring Hachune Miku have been uploaded to NND.[8] An additional 18,000 can be found on YouTube[9], including reuploads from NND. Thousands of pieces of fan art of the character can be found on pixiv[10], Piapro[11], deviantART[12] and Zerochan.[30]
Official Recognition
Hachune Miku was the first fan-made character to be officially recognized by Crypton Future Media and become utilized in their commercial media. On November 16th, 2007, Hachune made her debut in an episode of Toro Station (shown below), a weekly news service available in Japan through the PlayStation 3 online game Mainichi Issho.[14] In the episode, the hosts Toro and Kuro are shown brandishing leeks at Hatsune Miku before Hachune joins them and announces she has become an official character.
In December 2007, a slapstick comedy manga titled Hatsune Miku no Nichijō Roipara[31] starring Hachune with other Vocaloid characters by Otomania & Tamago launched. It was later serialized in the magazine Monthy Comp Ace, where it continued until October 2011. The serials were also compiled into four manga books (shown below) published by Kadokawa Comics.




Many kinds of Hachune Miku merchandises have been released as part of the official Vocaloid franchise lines. In addition to figurines (shown below, left) and plushies (shown below, center), a steamed meat bun designed to look like her face, known as "Mikuman" (shown below, right) was released in collaboration with the convenience store group Famil Mart in 2012.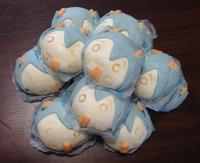 Figurine, Plushie and Mikuman
SOMESAT

Project

The Japanese Social Media Satellite Development project SOMESAT is a satellite-launching project created by a group of non-industrial engineers and NND users known as NICO-TECH in 2009. The group intends to launch a a CubeSat[22] with a Hachune Miku figure in to outer space. As of June 2013, they are in phase B of the project, attempting to design their own satellite for launch.





Miku Miku Dance Promoting Movie for

SOMESAT

Project[23]




The spin-off campaign "Miku to Venus"[24] succeeded to gather 14,000 signatures to include three aluminium plates of Hatsune/Hachune Miku illustrations to JAXA's spacecraft Akatsuki[25] in 2010.[26] The plates were successfully added to the spacecraft, which was launched on May 20th, 2010.[32]







Aluminium Plates
Hachune Miku Downsizing War
In 2008, NICO-TECH engineers began attempting to reproduce Hachune Miku's leek-swinging on the smallest scale possible, in a project called "Hachune Miku Downsizing War" (はちゅねミク小型化戦争, Hachune Miku Kogataka Sensou).[27] The project began with a 4 centimeter paper doll which was actuated by electric magnets (shown below, left).[28] Then, engineers competed to see who could make the smallest working Miku, resulting in a 2 micrometer rendition, operated by 200 nanometers of plastic beads manipulated by optical tweezers (shown below, right)[29] in April 2013. This attempt reached to the smallest scale that could be caught by existing optical microscopes.
Notable Examples
Illustrations





Videos

Left: "Ode to Joy"[19] | Right: Heart Sutra Parody[20]
Related Memes
"Miku Miku ni Shite Ageru♪" and Leek Dance
Hachune Miku's MAD videos marked the creation of original songs in the Vocaloid fandom after many amateur composers began drawing inspiration from Miku's fan-created personality. This is evident in the lyrics of the September 2005 original composition "Miku Miku ni Shite Ageru♪."[15] As of June 2013, the original "Miku Miku ni Shite Ageru♪" upload has been viewed on Nico Nico Douga more than 10.5 million times. The line "Without any leek attachment, but I want one if I could" was featured in a 3D CGI music video[16] and later inspired a comical dance called "Leek Dance" (ネギ踊り, Negi Odori, shown below, left), created by Nippori Honsha (日暮里本社), a flash movie animator.[17] The song was also featured in Sega's 2010 Vocaloid music game Hatsune Miku: Project DIVA[18] (shown below, right), along with the leek dance.
Character Item Memes
As Hachune Miku became associated with her leek, which is sometimes interpreted as a spring onion[33], Vocaloid fans began to associate each character with a food or object of their own, representing their personality or passions. Known as Vocaloid Character Items, these include Kagamine Rin/Len's road roller (shown below, left), Megurine Luka's tuna fish (shown below, center) and Kaito's ice cream (shown below, right).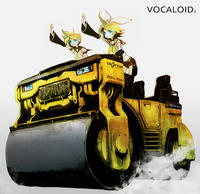 Search Interest
External References
Editor's Note: Registration is needed to browse the Nico Nico Douga videos listed in this section.
Facebook Comments