About
Vocaloid (Japanese: ボーカロイド) is a vocal synthesizer released in 2004, created to "sing" by piecing together phonemes (sounds made by humans to create words and syllables) at different pitches with different settings such as vibrato, dynamics, pitch bends, and transitions.
Hatsune Miku (初音ミク) is an application developed by Crypton Future Media. Released in August 2007, using Yamaha's Vocaloid 2 technology and voice samples of Japanese voice actress Saki Fujita, the program allows the user to synthesize and optimize the singer's voice to sing any tune. It was first introduced to the Japanese market with an official anime character, who has since reached iconic status within Otaku culture as well as mainstream J-pop and online video culture as well.
History
Prior to the introduction of Hatsune Miku, the vocal effect was mainly referred to as "Vocaloid," a voice synthesizer intended for the creation of songs. The user would choose notes, pronunciation, and voice effects to attempt to create a realistic singing voice. Soon Vocaloid 2, the second version of the synthesizer, was released with the Swedish Vocaloid "Sweet Ann" by PowerFX, but it remained little-known to the masses.
On August 31st, 2007 the "Hatsune Miku CV01 Vocaloid2" vocal synthesizer was released in Japan. The name comes from the Japanese characters Hatsu (初, First), Ne (音, Sound), and Miku (未来, Future, though written in katakana as ミク). Miku was advertised as a "Virtual Pop Star" instead of just a vocal synthesizer, using the sweet voice and cute character as major hooks. The software was tuned to create J-pop songs, but creating songs from other genres is possible.
Reception
The Japanese video sharing service Nico Nico Douga (NND) became known as the ground zero of Hatsune Miku sensation on September 4th, 2007, when NND user Otomania posted a vocaloid remix of another remix series "Leekspin" featuring a heavily-deformed version of Miku, now known as "Hachune Miku". The video was well received in the video-sharing community, inspiring other NND artists to create and share their own remixes, cover songs, and fan art, as well as original compositions using the software. Since its debut, the original video has gained over 3,250,000 views (as of August 2011).
Nico Nico Douga
"Melt," a Vocaloid track composed by Ryo featuring Hatsune Miku is one of the most popular Vocaloid songs with the highest viewership, comments and "mylists," or NND's equivalent of YouTube Favorites.
Another widely-recognized Vocaloid song is "Po-Pi-Po", a nonsensical yet extremely catchy and upbeat song about a Japanese vegetable juice product. The original video features Miku dancing back and forth, kicking her leg up. Soon after, many fans followed suit with dance videos featuring other Vocaloids, fan Vocaloids, and anime characters to create their own remixes of "Po-Pi-Po" promo track.
A "Nico Chorus" is when a NND user takes several covers of a song and compiles them, switching around who's singing when and often including the original Vocaloid, usually at the end. YouTube covers do, in fact, exist as well. There are a very few notable ones in comparison to the Nico singers, but some popular singers are there.
Miku Miku Dance Videos
In May 2008, a 3D modeling freeware program Miku Miku Dance (MMD) was released to help users animate and create 3D animation music videos set to Vocaloid tracks. Developed by Yu Higuchi (HiguchiM), the MMD program became a must-have tool for Vocaloid fans to create their own music videos, as well as parodies and re-enactments of pop culture references and current events, as well as tributes to other Japanese video memes like Geddan and the Vocaloid sub-meme "Po-Pi-Po."
This program became so widely-used in Japanese video communities, NND users began hosting an annual "MMD Cup" contest, inviting the most talented MMD users to create their own videos and duke out who's the best of the best.
MMD video series is similar to Garry's Mod videos and Team Fortress 2 videos. MMD videos typically take the original audio from source materials and dub it over the footage of Miku characters recreating the original scene.
Crossover on YouTube
The Hatsune Miku videos also reached their western counterpart YouTube in 2008, spawning a fresh thread of remixes and mash-ups featuring English-language memes like "This is Sparta" and Portal's ending theme song "Still Alive".
Impact on Mainstream Culture
J-Pop Music
Similar to the Auto-Tune phenomenon on YouTube, the popularity of Vocaloid videos on NND soon reached the Japanese mainstream, receiving press coverage and endorsements by J-pop celebrities. Some remix artists were able to get their Miku-themed albums signed on by music labels like Sony Music Entertainment, including Supercell by Ryo, the artist behind several vocaloid hits like "Love is War" and "Black Rock Shooter" and a compilation of vocaloid songs titled Exit Tunes Presents Vocalogenesis feat. Hatsune Miku, which debuted at number one on the Japanese weekly Oricon album charts on May 31st, 2010.
Two live concerts have been held featuring Vocaloids, MIKU FES'09 in August 2009 on Miku's "second birthday" and MIKU GIVING DAY 3'9, a promotional concert sponsored by SEGA for the upcoming Project Diva sequel. The performances were accompanied by character images of Vocaloids projected onto a glass screen.
Video Games
Hatsune Miku has also been featured in several video games. Sega launched a series of interactive rhythms games with the release of its first title Hatsune Miku: Project Diva. The game became available on Sony PSP on July 22th, 2009. Another Hatsune Miku project was announced by Sega in April 2011.
Nintendo DS game 13-sai no Hello Work DS features Miku as one of the main characters. The action video game No More Heroes 2, a popular Wii title among Western otakus (or "weeaboos"), features a small segment of Miku's singing on its soundtrack. In the Japanese version of online action game PangYa, a user campaign was launched in May 2008 to bring Miku into the game as a character and the request was fulfilled.
Fans have created various Miku-themed MODs, models, and character skins for popular games like World of Warcraft, Minecraft, and Valve Orange Box games. Hatsune Miku won the 2008 Seiun Awards in the Free Genre category.
Figurines
Leading figurine companies like Good Smile Company and Max Factory have created figures of Miku and other characters in the Vocaloid series. Other fan merchandise includes small toys, towels, art books by fans, and even jeans.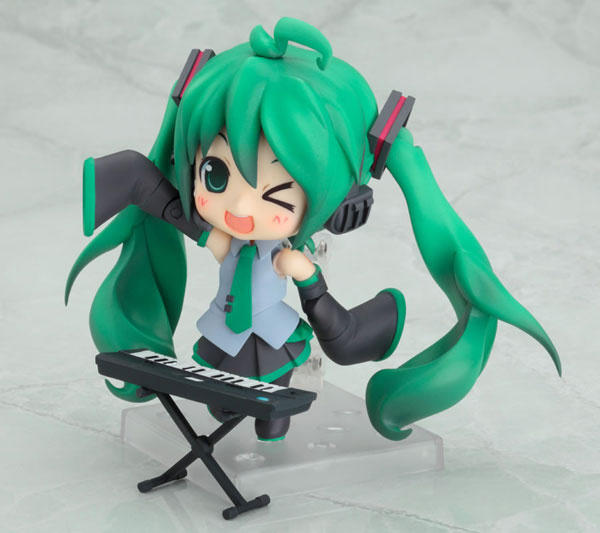 In November 2009, Hatsune Miku fan Sumio Morioka (his online handle "chodenzi-P") launched an online petition to convince Japan Aerospace Exploration Agency into installing a custom-built Hatsune Miku aluminum plate on the Japanese Venus spacecraft explorer Akatsuki. By December 22nd, 2009, the petition exceeded the requirements of 10,000 signatures and won the support of a JAEA professor. On May 21st, 2010, Japan's first Venus probe Akatsuki was launched with three monochromic plates depicting Hatsune Miku and Hachune Miku.

Manga & Anime
In late August 2009, Yamakan's Ordet animation studio announced a "Black Rock Shooter" anime series due in Spring of 2010, but after many delays, it was released online as an OVA on July 24, 2010. KEI, the original artist of Hatsune Miku, published his "Unofficial Hatsune Mix" manga, which consisted of several short stories centered around Miku and other characters from the Vocaloid series .
Asahi TV Documentary
In March 2009, the Japanese TV network Asahi aired a documentary feature about the Hatsune Miku phenomenon:
Toyota Sponsorship
In the summer of 2011, Toyota announced that it would be sponsoring Hatsune Miku's U.S. concert debut in order to celebrate the upcoming English expansion. Toyota announced their partnership alongside advertisements for their new 2011 Corolla.
THE END
In December 11th, 2012, an opera with Hatsune Miku as main character was premiered at Yamaguchi Center for Arts and Media, [11] directed by Toshiki Okada and Keiichiro Shibuya, telling about Hatsune Miku realising she's dead. Vocaloid's programming was portrayed by Pinocchio-P, [13] a well-known Vocaloid songs producer. The opera was played again in March 24th and 25th, 2013, and in November, 2013 it will be premiered in Paris.
The dress she wears is based on Louis Vuitton's 2013 Spring / Summer collection, made by Marc Jacobs and Louis Vuitton's studio team. [12]
Hatsune Miku's debut on David Letterman
On October 8th 2014, the holographic pop star made her US debut on the Late Show, hosted by David Letterman, with her song "Sharing the World" in order to promote an art show dedicated to her that would open in New York.
As early as October 9th, news sites including Mashable [14] or Pitchfork[15] started reporting on this new Japanese sensation appearing on American television.
Vocaloid Fandom
Vocaloidfan.com publishes a weekly feature called "Vocaloid Weekly Ranking," ranking the latest Vocaloid videos by how many views, comments and mylists it received that week. There are weekly rankings for different sub-genres of Vocaloid as well.
Crypton, the developers of Vocaloid series, sponsors another Hatsune Miku fan community site called Piapro, which has become a popular hubsite where fans can host original songs, artwork, and music videos.
Character Items
The leek was made Miku's character item after the Ievan Polka video. Soon after, different items began being attached to different characters. The ones that seem to be set in stone are: a road roller for the Kagamine Twins, and often a banana for Len; ice cream for Kaito; a bottle of sake for Meiko; a tuna fish for Luka; a carrot for Gumi; and an eggplant for Gakupo. However, most other characters never had a set character item. For example, upon the release of Sonika in July 2009, fans debated over whether she should have a ring or a pineapple as an item. The notebook was never really set in stone as an item for Kiyoteru, despite its appearance in the box art. However, for some Engloids, fans like to make fun of the characters' voice banks' bad traits using fan art and undefined character items; for example, since users torrenting Prima often have their computers messed up due to a common error, she is often drawn with a dagger.
Official Spin-off Characters
Following Hatsune Miku in the Character Vocal Series is Rin and Len Kagamine, and later Luka Megurine. While more Vocaloids were released afterwards, and some earlier ones became popular as well, Miku still remains the most populsr.
Fanmade Vocaloid Characters
There is a large volume of images and videos depicting "Vocaloid OCs" or fanmade characters outside of the original Vocaloids, quite often with an entirely original design, "plot", and character item. Due to the fact there is no official canon behind the series, most character attributes or conventions are fan-made and sometimes criticized for their imitative nature.
YouTube Deletions
On February 2nd, 2012, the anime news website Sankaku Complex[8] reported that Hatsune Miku YouTube videos were being removed at an alarming rate due to a false copyright claim campaign. The article went on to criticize YouTube's policies concerning video takedowns.
All this is possible because YouTube allows unverified third parties to issue takedown notices on any content they host, which usually results in a swift removal of the video which can only be reversed by a counter-notification.
The "savemiku"[9] counter-campaign was launched to combat the takedowns and released the following statement:
Someone who doesn't like Hatsune Miku getting popular in the world is deleting her high ranked videos with English titles on it by making fake reports that the videos are infringing a copyright.
We don't know who is doing this.
The series of these acts may be caused by organized group(s).
It is under investigation by Miku fan volunteers.
If your video is deleted by a fake report, please submit a counter-notification here: http://p.tl/hZW6
To all Vocaloid fans, Let's get her back. Don't give up.
Search Interest
External References
Recent Images 1,094 total